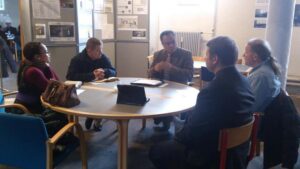 (photo credit: esperanzatolentino.wordpress.com)
Which kind of translations make more impact?
This is a good question.  It is also a complex issue and more than one set of parameters comes into play. That is, there's more going on here than "literal vs meaning-based." Long ago David Landin did research in Bolivia to see which indigenous Bibles were being used there 10 years after completion. Answer: the ones with the hymns in the back. And in those, it was the hymns that were being used, not the translations themselves.
One key factor that has proven true over the years is whether or not the local church leaders (pastors, evangelists, teachers) choose to use a new translation or not. If the local and regional church leaders do not show support for a translation, it will likely fade into obscurity. This is why nowadays many projects begin by contacting local and regional, even national church and denominational leadership in order to hear from them what kind of translation is most desired by them for their people. And continued conversation with these leaders is fostered all along the life of the translation project.