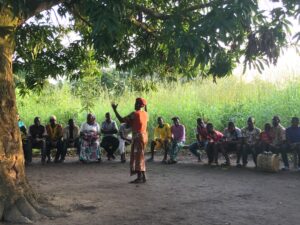 Story group in West Africa
What makes a good oral Bible story? There are many ministries that develop oral Bible stories, and they have varying approaches on the process of developing an abbreviated and simplified story from a biblical passage(s).
Good story development follows four principles embraced by many in the story community of biblically faithful to the textual Bible passage(s), orally reproducible (meaning that that story can be easily learned and told by others), naturally told and the story is appropriate to the culture, often expressed in the use of key terms understood by the local community. In addition, a good oral Bible story based on a Bible passage(s) has a plot or story line that keeps the listener interested and engaged. The actual storyteller can also influence the quality of the story experience to the listener
When developing an oral Bible story, a ministry may embrace common elements practiced by other story practitioners (e.g., testing the story with those who don't follow Jesus) while having nuances (e.g., use of technology) in the story development process that is unique to the ministry.
So what makes a good oral Bible story? Two important aspects are fidelity to an established process and people embracing the story.